June 21st marks National Indigenous Peoples Day in Canada. In the Northwest Territories, National Indigenous Peoples Day is celebrated in every community, with some extending the festivities into a week-long event. 
When communities gather in the NWT to celebrate Indigenous heritage, you'll find no better opportunity to learn more about the Indigenous cultures that have been here since time immemorial and the people that have called the NWT home for centuries. Each community's celebration involves cultural demonstrations, storytelling, live performances, sharing and creating art, contests, and of course, a lot of food to share.
In the North, we gather to celebrate, visit with family and friends, and eat good food. On National Indigenous Peoples Day, communities make the most of the summer sun and put on cookouts, barbecues, outdoor fish frying, cooking contests, and community feasts complete with authentic and traditional food harvested by the community from around the region.
If the idea of freshly-fried Whitefish and homemade bannock with hand-picked blueberries gets your mouth watering, here's a taste of the traditional Indigenous delicacies you can expect to find at an Indigenous Peoples Day celebration in the NWT.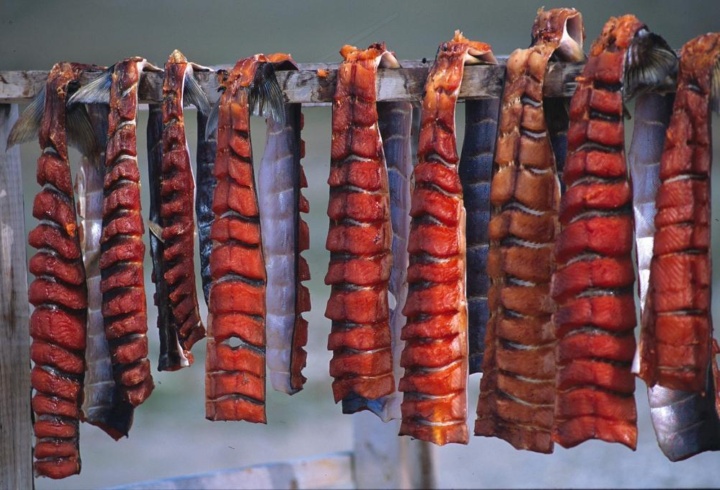 Western Arctic
Traditional food in the Western Arctic is among the most unique in the territory - much of traditional Inuvialuit food comes from the coastal communities' access to the Arctic Ocean and the variety of plants and animals that live in the northernmost parts of the territory. From cubes of Muktuk - the well-known treat made of beluga whale skin and blubber - to delicious fried Arctic Char, communities like Inuvik, Tuktoyaktuk, and Aklavik will offer all sorts of traditional Northern delicacies. Enjoy some locally harvested muskeg tea and experience the traditional flavours of the Arctic coast.
In Tsiigehtchic, one of the vibrant communities along the Dempster Highway, you can try dryfish. Dryfish is a true Northern delicacy, and this Gwich'in Dene community is known for having some of the best dryfish in the North. Fish are caught, cleaned, and then cut into strips or cubes that hang on the skin and slowly dry over a smoking fire. Cloudberries are also a well-known treat in the Western Arctic - enjoyed with bannock, made into jams, or eaten immediately after being picked.
Sharing food is a staple at community gatherings in the Western Arctic, and there's no bigger celebration than National Indigenous Peoples Day.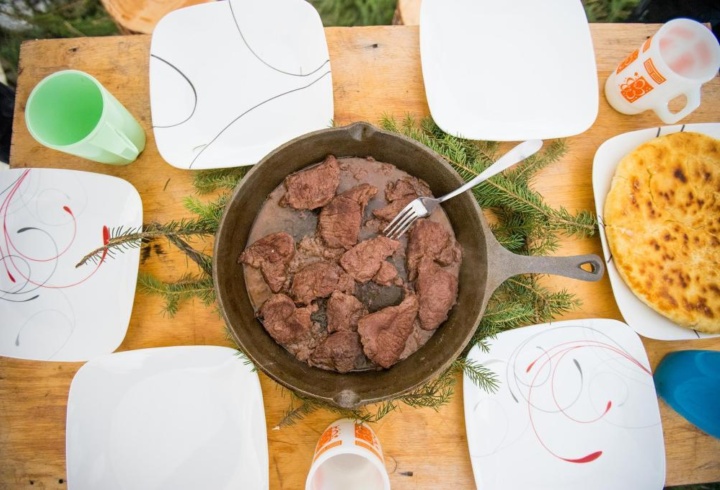 North Slave
In Yellowknife, celebrating National Indigenous Peoples Day starts off with an annual fish fry in Somba K'e Civic Plaza - right in the heart of downtown. Whitefish from Great Slave Lake is the go-to for many Yellowknifers and is one of the more popular fish around the territory. Cuts of caribou and moose make their way into flavourful and hearty stews, which pair perfectly with freshly-cooked bannock.
Your experience of traditional food in the territory wouldn't be complete without a taste of bannock. Recipes and cooking styles differ between regions and even between households. So, while many communities have bannock at gatherings, you can enjoy a different culinary experience each place you try it. At bigger gatherings, communities like Whatì will put on bannock-making workshops, where talented chefs can flaunt their skills and pass down their favourite recipes and styles.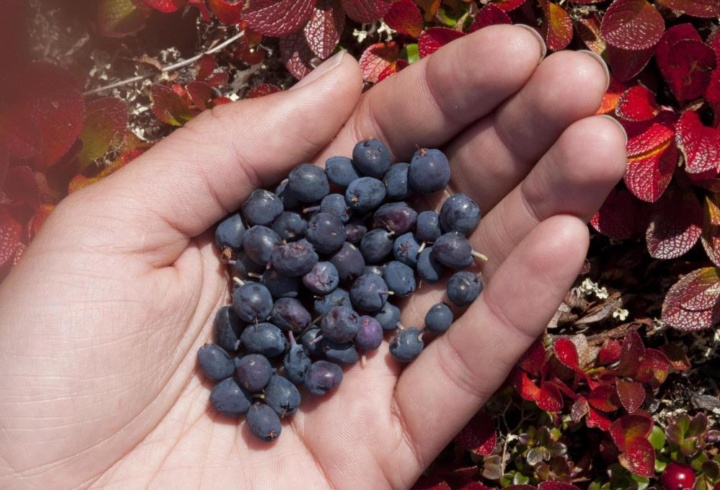 Sahtu
Deline takes bannock seriously with the Best Bannock Baking Contest on Indigenous Peoples Day. Bannock baking masters add a wide variety of ingredients to their signature recipes - eggs and milk add some fluffiness, while jams made from wild blueberries, cloudberries, or cranberries turn the delightful simple recipe into a sweet treat.
Beyond bannock, traditional food in the Sahtu includes hearty cuts of moose and gargantuan pieces of fried Lake Trout from Great Bear Lake. Harvesting from the land is a traditional part of life in all regions of the NWT, and you'll experience the bounty of this relationship at any community feast in the Sahtu. Norman Wells and Colville Lake both host community feasts for people to gather outdoors, cook on the fire, and enjoy the fruits of the community.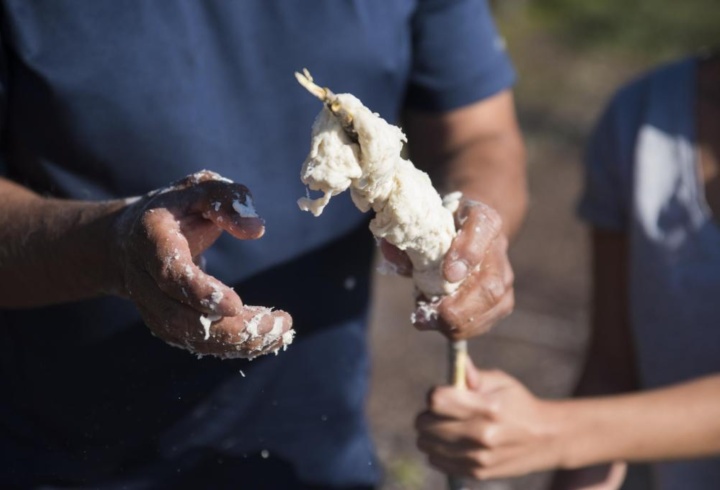 Dehcho
In the Dehcho region, Fort Liard is one of many communities that start the celebrations on Indigenous Peoples Day with a pancake breakfast. Wild blueberries are a common addition to bannock recipes in the Region, and the flavour of hand-picked wild blueberries just seems to be sweeter when enjoyed in freshly made bannock or pancakes. 
Caribou and moose are often part of dishes brought to community gatherings, but understandably fried and filleted Whitefish, Arctic Grayling, and Lake Trout are famous appearances in communities all along the Mackenzie. Dehcho means "big river" - the Dene name for the Mackenzie River. The Mackenzie is the biggest water feature in the Region but by no means the only one; the waterways are important to communities for hunting, gathering, and bringing people together to celebrate.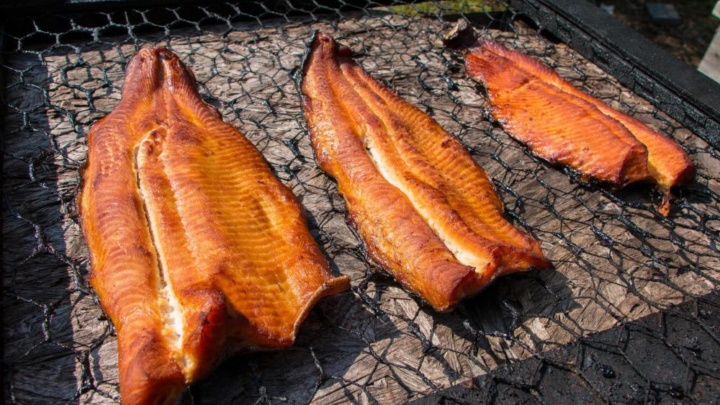 South Slave
Communities around both Fort Smith and Hay River gather in these towns for community feasts and outdoor barbeques on Indigenous Peoples Day. The South Slave Region has just as many phenomenal lakes and rivers as anywhere else in the territory, making fish a common and popular sight at community gatherings. That includes Whitefish, Lake Trout from the depths of Great Slave Lake, and fierce Northern Pike.
National Indigenous Peoples Day events in the NWT are a time for celebrating heritage and sharing culture. Celebrations in the South Slave include a variety of hands-on culinary workshops like bannock and drymeat making, and fish filleting - a valuable skill for anyone who wants to enjoy an authentic shore lunch on their next fishing trip. These workshops are led by Indigenous knowledge holders who pass down skills and traditions that have been part of life in the South Slave for centuries.
No matter where you spend National Indigenous Peoples Day in the Northwest Territories, you'll find communities of friends and families gathering to celebrate culture while sharing good times and great food. The traditional food shared in each of the regions is unique to the lifestyles and environments of the people who have lived there since time immemorial, and a crucial part of connecting with the cultures of the North. 
What starts with a taste of fried fish or a mouthful of fresh bannock often turns into a full experience and appreciation of a different culture. There's no better way to step into that journey than joining an Indigenous Peoples Day celebration in the NWT.
The Northwest Territories is made spectacular by the thriving cultures, deep histories, and rich traditions of the people who call it home. Don't miss your opportunity to experience the authentic art and culture of the NWT on your visit through the North.
Every community across the NWT has its own timeless history of storytelling through art. Read more to learn what makes each practice unique and where you can find authentic Indigenous art from artists across the territory.
This story has been adapted from an original article available at: https://spectacularnwt.com/story/traditional-indigenous-foods-every-region-nwt.